Back to news
8th Sep 2023
How to spot when it's time to change your tyres
Explainer
Over the course of the year, UK motorists can often find themselves in very different weather conditions all in the course of a day, whether that be rain, sun or snow. Being able to take on your commute or a long journey with peace of mind that your tyres are in good condition is important.
With the nation heading into autumn, it's also a timely moment to check the state of your tyres so we are on hand to provide top tips on how to spot when it's time to change your tyres.
1. Make sure there is enough tread
Tread improves grip, the vehicle's handling and driver safety. The 20p test is a simple, quick and easy way of checking the tyre tread of your car's wheels. Just take a 20p coin and insert it into the tread grooves on the tyre. If you can't see the outer band on the coin, your tyres are above the legal limit.
The legal minimum tread depth is 1.6mm and waiting until it reaches this point – especially as we head into autumn – means leaving yourself at risk of aquaplaning, as well as potential points on your license or hefty fines.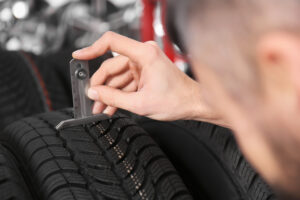 2. Monitor for signs of damage
Any visible perforation, cut or damage has the potential to render the tyre unsafe to use, so they must be checked thoroughly by a tyre professional. Damage could be cracking, uneven wear along the tyre's face, bulging in the sidewall, chunks missing from impacts, or even sharp objects like nails lodged in the rubber. With the amount of potholes on the roads in the UK damage could be sustained on a regular basis!
3. Check the pressure regularly
It is recommended you check your tyre pressure once a month as standard. This is because tyres can quickly become deflated if they aren't checked regularly, and this can result in excessive and uneven wearing of the tread.
4. Consider the 'feel' of your drive
Although it may sound obvious, pay close attention to how your car is driving. Should the car start to feel more unstable, noisy or pull to one side, it's time to check – and potentially change your tyres. For example, sudden impacts on tyres, such as potholes, can pull the tyres out of alignment and so getting them checked by a professional when they don't feel 'right' is important.
5. Monitor the outside weather – it could be time for winter or all-season tyres!
Winter tyres are designed to optimise performance on cold roads and in wet, snowy or icy conditions. If you're in an environment where the weather is turning and you're facing tricky conditions, it could be the right time to try a winter tyre, such as the Landsail Winter Lander.
Designed for the cold, the Landsail Winter Lander delivers excellent performance in the snow and ice. The sipe pattern is organised in high-density waves so that each sipe can apply maximum force to the snowy road surface and the 3D stay-open sipe technology means they remain open when they make contact with the ground, so they can bite into snow more effectively.
Other key characteristics which provide driver confidence in these environments include a stiff shoulder design to deliver cornering stability and driving comfort, a wet traction tread design which quickly evacuates water for outstanding wet handling, decreased aquaplaning and low noise, as well as the Winter Lander's specially formulated tread compound, designed for the cold so it delivers enhanced traction and braking when summer tyres can't.
Alternatively, if you're looking for all-weather confidence and might face varying conditions this winter, the Landsail 4Seasons tyre range has been developed and manufactured to increase performance and control in all seasons, ready to tackle driving conditions in various climates.
Thanks to its modern asymmetric tread design, the Landsail 4Seasons offers excellent handling, high curve stability, and good grip in wet conditions. The lateral and longitudinal grooves help direct water away, with wet grip sipes and grooves helping to increase grip in wet, icy and snowy conditions. The tread pattern also comprises dry grip features for optimum summer performance.
Wherever your journey takes you as we head into the cooler months of the year, make sure your tyres are ready whatever the weather! For more information about our winter and all-season range, visit your nearest Landsail dealer.